Alex and Brett Harris, well-known for their
Rebelution blog
, were guests at Focus on the Family to tape a future radio broadcast. We were privileged to be in the gallery during the taping, and everybody had a great time.
The Rebelution is a counter-culture movement that we happily support. Here's a snippet from their website which describes the philosophy.
The official definition of the 'rebelution' is "a teenage rebellion against the low expectations of an ungodly culture." When you look around today, in terms of godly character and practical competence, our culture does not expect much of us young people. We are not only expected to do very little that is wise or good, but we're expected to do the opposite. Our media-saturated youth culture is constantly reinforcing lower and lower standards and expectations.
The word 'rebelution' is a combination of the words "rebellion" and "revolution." So it carries a sense of an uprising against social norms. But in this case, it's not a rebellion against God-established authority, but against the low expectations of our society. It's a refusal to be defined by our ungodly, rebellious culture. Actually, we like to think of it as rebelling against rebellion.
Not only was it a real treat to see the behind-the-scenes action of a taping session, but this was a topic about which our kids could really get excited. We had participated in the Harris brothers'
Modesty Survey
a couple of years ago and were already familiar with their website, so when we heard they were in Colorado Springs, we jumped at the chance to hear them.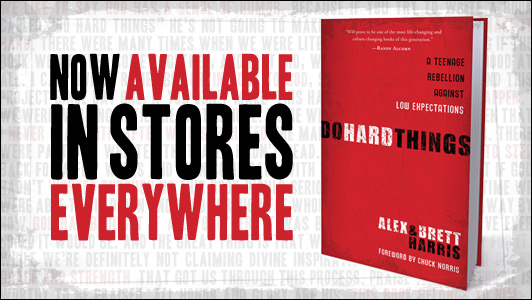 The subject of the conversation was their book,
Do Hard Things
, which is a challenge to the youth of today not to waste these years with insignificant mediocrity but to make a difference. Lead fruitful lives now, and don't wait for adulthood. Do hard things!

The message is so inspiring, so motivating. We loved it! If you haven't joined the movement, please do. This is one time when it's really ok to rebel.