I did this one backwards. It's kind of a rule with me. You have to read the book to see the movie. The book is always better, and I love to visualize the characters myself before I see someone else's adaptation.

Friends loaned us this movie some time ago, and we loved it. Skeet Ulrich had little or nothing to do with our appreciation. Do you believe that? Right...

Upon our fifteenth or so viewing, I happened to notice it was based on a book by Ann Howard Creel. Off to the library I went. Oh, how I love inter-library loans!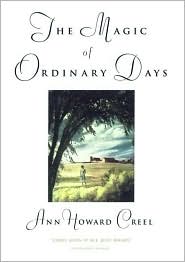 Once again, the theory was proven to be true. The book is even better than the movie. The characters are so real, the emotions so vivid. I want to live on a farm near Ray and Livvy. I felt as though I had slipped into their world for a short time, but I wanted to stay longer.
One of the truest measures of a good read is that you don't want it to end. This one fits the bill.