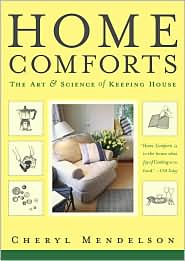 It's getting to be that time of year again. You know, time to curl up all warm and cozy with a good book while the cold wind blows outside. I enjoy literature of many kinds, classics, mysteries, romances, thrillers and even the occasional non-fiction.
Cheryl Mendelson's
Home Comforts: The Art & Science of Keeping House
made my list of
40 Great Reads
and I have to say that I absolutely love this book! It is the most comprehensive collection of homekeeping information I have ever seen. Martha Stewart has nothing on this woman.

A few years ago, our son's dust allergy required some fairly significant household changes. We got some good information from our allergist, but the bulk of what I learned came from this very book. There is an entire section on dust and dust mites.

When our sinks were draining slowly a couple of weeks ago, I pulled out Home Comforts and found some great tips on cleaning the drains. It was great fun, too. Any time vinegar and baking soda are involved, I get really happy. The best thing was that when I was finished there was a noticeable difference, and I now have some strategies to keep things flowing smoothly.

Every corner of our homes are explored. Cleaning all kinds of surfaces with homemade, less caustic solutions is well-covered, and laundry questions are thoroughly explained. The list of topics is exhaustive. Keeping house is regarded as an admirable pursuit, both an art and a science.

I like to read bits and pieces here and there. I'll peruse a section for a while, and when I put the book down I find myself looking around my home to see what I can immediately put into practice.

Cheryl Mendelson inspires me make my home a more comfortable, inviting place for our guests and for ourselves. There's no place like it.