What a fun day we had recently as several ladies gathered in our home to piece a quilt block! Everyone brought sewing machines and squares they had previously cut. We put the blocks together step by step, and everyone went home with a finished square to serve as a pattern and as inspiration.
Our block is called Clay's Choice, named for Henry Clay, 19th-century Patriot, presidential candidate, and founder of the Whig party. It is sometimes called by other names, Clay's Star, Clay's Favorite, Henry of the West, and Harry's Star.
There are a few variations of this block like the one shown below. In this example, the accent fabric is used in the corner squares. This variation makes for an interesting effect when the squares are put together.

Ours put the accent fabric in the second block on each outside row, which gives the pinwheel pattern more dominance in the finished quilt top. Either way, it is a striking, but basic pattern.
The blocks all turned out very well and though all were made by the same pattern, each was uniquely beautiful. Hmm...there might be a sermon in there somewhere.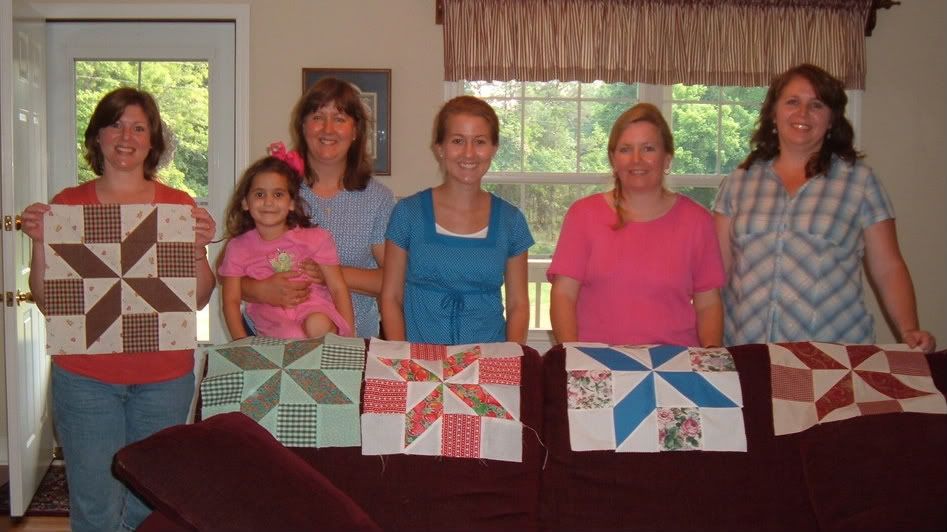 Thanks for coming, sweet friends! Let's do it again sometime.