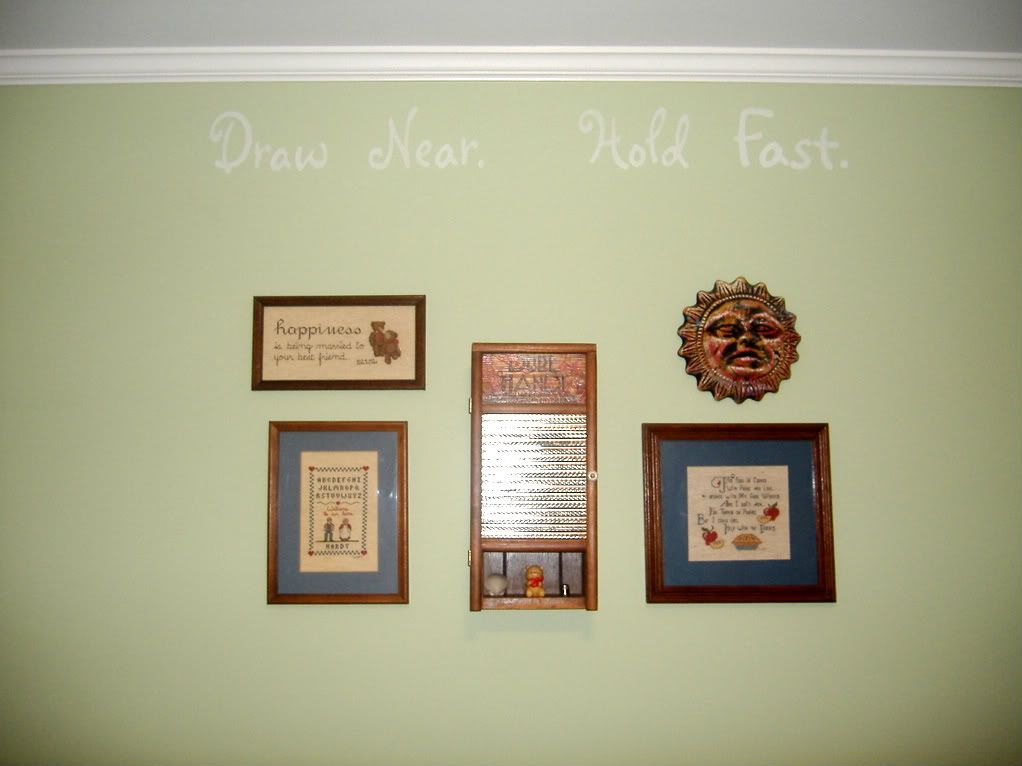 The message we heard at church yesterday is still playing through my head. That's a really good thing.
We went step by step through this confession from the book of Hebrews.
Jesus Christ is God's Son and our high priest. After he made purification for sins he sat down at the right hand of the Father, where he intercedes for us and runs all things by the word of His power. He will preserve us through suffering, trial, and temptation by giving us grace and mercy, IF we draw near to Him and hold fast our confession.
Norm Wakefield of
Elijah Ministries
was the speaker, and the message was from his book,
Anchored in Christ: The Solid Rock in the Storms of Life
. It was one of those times when the words went straight to my heart. I desperately need to be reminded to draw near and hold fast.
Since I couldn't get these thoughts off my mind, I decided to add them to the wall in our breakfast room. This way, we will see them every day, and hopefully our focus will be drawn to Jesus, the Rock to which we can hold fast.
Want to add something like this to one of your walls? Easy! Just choose a font you like and enlarge it. Each of my words fit on one regular sheet in landscape view.
Tip: Choosing a font that is somewhat irregular helps disguise any slight misalignment, bump, or other goof you might possibly encounter.
I use dry brush stencil paint, so regular paper works just fine for a one-time stencil. Cut the letters out of the paper leaving the hole for your stencil. Use a craft knife if you need to, but scissors work pretty well for large letters.
Position the stencils on your wall, and start painting. I just cut off a corner of a ScotchRite sponge and started daubing.
Daub--v. to paint unskillfully
Yep, that's about right!