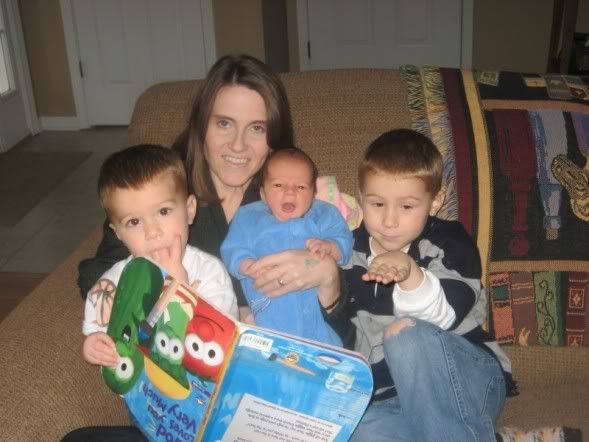 I waited patiently. I looked at the pictures on snapfish. I talked to my sister on the phone. I heard all about how cute he is and shared the excitement with everyone who got to visit.

Finally.

It was my turn.

I took the longest trip as a lone traveler I had ever made in my entire life and visited my brand new nephew and his sweet family.

I smelled him. I kissed him. I cuddled him. I rocked him. I changed him. I rescued him from his loving big brother. I even fed him one bottle while his mommy got a little much-needed rest. It was wonderful!

As a bonus, I also got to spend some time with the big brothers. I read Mike's Dump Truck and Veggie Tales books, very satisfying and uplifting reading. I chewed Fruit Stripe gum and then got a tattoo! I played with toys and had a general good time.

Spending time with my favorite sister and my favorite Marine was another special treat! They fed me so well and made me feel welcome in their home. Now I've been introduced to Jericho, and I have so much to catch up, but I probably never will. Oh, well.

It was a great trip, but now I'm back home where I belong.

Maybe they'll let me come back for another visit one day.